Earthquakes occur without warning, and no technology has ever even come close to predicting the location and timing of an earthquake accurately (let alone offering protection against it or finding ways to prevent it from happening.) Perhaps the most important element in preparing for an earthquake is to stock up on freeze-dried meals. Supply chains get hit the first during extreme weather and emergency situations.
There has never been a better time to build up your food storage. The best emergency food companies make sure their freeze-dried MRE (meals ready-to-eat) packets remain shelf stable for up to 25 – 30 years. This is an investment you can use. We have done the homework by testing and comparing ingredients of many popular brands for you. These are our favorites.
What Food to Store for an Earthquake
People that survive a high-magnitude earthquake will witness substantial damage that could disrupt their lives for weeks. The most important need during an emergency is food. Gas and electric power systems may get damaged leaving you without a freezer. Violent shaking during an earthquake can easily damage your bottled and canned food storage.
PRO TIP: Check out this YouTube video on ways to survive an earthquake.
When wondering what food to store for an earthquake, you need to note that pre-made freeze dried meals are incredibly convenient. These only need water and can be stored almost anywhere. You need to find foods that are available in convenient packages and can be eaten right off the container.
Don't fall for inexpensive companies that make starchy bombs containing instant oatmeal or pasta. These "survival ingredients" are shelf-stable on their own and don't necessarily require freeze-drying. Choose nutrient-dense meals if you are going to invest in freeze-dried food. For instance, look for eggs, meat, nuts, fruits, and vegetable.
Can you eat coyote on a normal day? Chances are high that your body will reject this meat during an emergency situation too. Hence, stay clear of cheap meal providers and invest in something you and your family can easily digest during tough times.
Don't make the mistake of relying on your store of pressure canned vegetables as the glass jars are especially vulnerable during an earthquake. Instead, invest in freeze-dried vegetables that can be rehydrated and cooked just the way you want. Make sure to avoid anything cruciferous, such as cabbage, cauliflower, broccoli, and kale among others owing to their intense sulfur taste.
What Food to Store for a Pandemic?
The food packets to store for a pandemic or any other emergency are the ones that can be easily cooked and incorporated into your regular meal plan. When considering between freeze dried vs. dehydrated meals, always choose freeze dried because of the high shelf life and better flavor. After all, your family will depend on good tasting food for comfort during an emergency.
If you were to ask your family today "can you eat skunk meat" chances are high the answer will be in the negative. Freeze dried meal is the top answer by experts if asked what food to store for pandemic. This is because these meals will leave you with enough time and energy to deal with the issue at hand.
If history is to be believed, pandemics tend to drag out. Frozen foods can bring the much-needed variety to your emergency food supplies in the form of meat, cheese, eggs, and vegetables.
It can give you a feeling of normalcy when hunkered down at home. You and your family won't miss canned meats, fresh produce, scrambled eggs, beef jerky, chicken, fruits and vegetables so much. In fact, there are a few manufacturers that offer freeze dried animal protein with the same meat taste.
Freeze dried foods don't need several hours of cooking and are great whether there is a natural disaster or a national emergency. Freeze dried fruits offer healthy vitamins and other nutrients that won't be available in fruit bars. Make sure you get an eclectic mix of different types of food so that your family gets the same amount of nutrition.
You can also stock up on other types of food that don't require an elaborate cooking process, such as peanut butter.
Best Freeze-Dried Food Supply for an Earthquake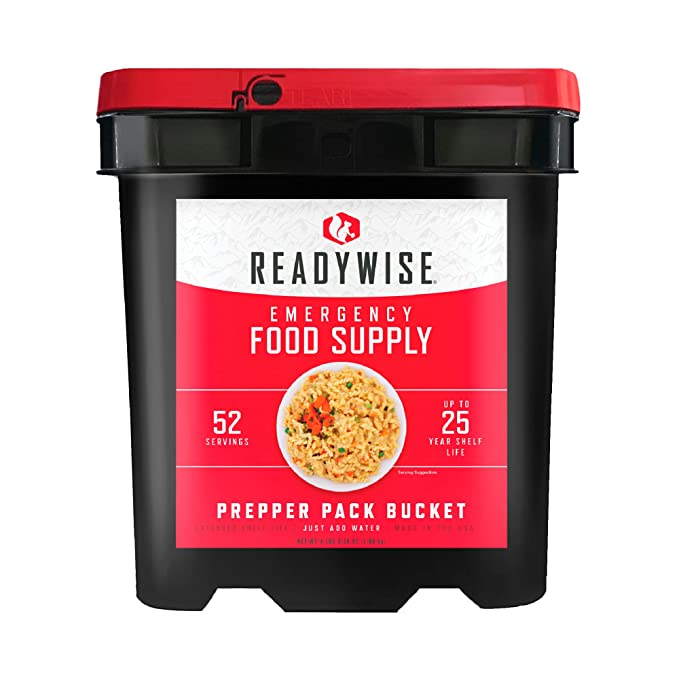 The emergency food supply kit from ReadyWise or the Wise Company is a wise decision whether you measure it by price per meal or sheer volume. The plastic bucket makes the easy-to-prepare meals convenient to store. You can carry the grab-and-go bucket outside in case of an earthquake. After all, survival is all about maximizing opportunity.
There are 52 servings divided among 13 entrees inside the bucket. This means you get variety in your diet even if it feels like the world is falling apart. There are larger sized choices as well if you like the flavor. ReadyWise is considered among the best emergency food companies. You can store all the food safely for over 25 years without refrigeration.
All you need to do is add some hot water during emergency scenarios to get a fine nutritious meal. You can enhance the flavor with some tomato sauce. This is an affordable option for survivors whether battling a natural disaster or stuck on a mountaintop. Based on this, you need to be careful about the calorie intake since these meals are not very dense.
You may want to supplement with additional food on hand, such as beef jerky. One-click prepping is something you cannot ignore when purchasing freeze-dried food. The Wise Company has made the product reasonably priced with excellent packaging and shelf life for long-term emergencies.
Pros
Portable tub
Sustenance for weeks
Plenty of variety
Four servings in each pound
Cons
No meat in the servings
Needs a lot of water to fully rehydrate
No dairy-free options
Valley Food offers one of the best MRE kits for earthquake. They advertise their food as being without artificial ingredients, fillers, or GMO. Their tagline "simple food you can trust" doesn't fall short. The flavor is great for people that don't want their food tasting like skunk meat. With that said, the company does mention that their food needs to be supplemented with vegetable and fruit bucket for wholesome nutrition.
There is an interesting selection of safe to eat bulk freeze-dried dishes as compared to other food companies. You can choose among meat and cuts of different animals, such as beef hind legs or chicken sausage pieces. In dairy, available choices include shredded cheese, milk, and yogurt bites. You also get powdered eggs, apples, bananas, pineapples, green beans, peas, and sweetcorn among others that are actually tasty.
There are 19 food options to choose from. In relation to this, each bucket contains only 10 entrée bags and 6 breakfast bags. Most people think that the meals are among the tastiest on the market. They may not be as good as certain high-end options, but they do a fairly good job of not having a horrendous odor.
For instance, their chili has a bit of a spice to it without being very hot. The cheese and cream dishes have good texture. We applaud the Irish cheddar potato soup.
Pros
Variety of meal choices
25-year shelf life
Made in USA
Cons
No gluten free choices
Takes longer to cook
No savory options in breakfast
4Patriots is a long-known company in the arena of freeze-dried survival food. This is an ideal choice if you are looking for something smaller. They ship the product in a compact 2.2-pound bag with over 16 servings that total 3,760 calories. It is enough for one person. Pertaining to this, the calories are bulked with sugary drink mixes.
You can get three meal options even though the bag is small – creamy rice and vegetable, mac and cheese, and oatmeal. There is a solid serving of nutrients with each meal containing over 200 calories. You can stash the bag in your closet or pantry for decades without worrying. They also have a 4-week tub option that can easily feed a person for an entire month.
The kits come in a flat Sterlite container, like the ones you would purchase on Walmart. It can be stored conveniently enough. With that said, it's not hardened or sturdy enough to withstand an earthquake. It is important to note that 4Patriots don't manufacture their own freeze-dried food. Instead, they rebrand the packaging to sell under their own label.
Furthermore, it's one of the better choices available in the market if you are creating a survival kit for your own. Or, you want separate survival kits for different family members. The brand makes it easier to calculate the calorific intake and keeps things simple.
Pros
Tastes good
Inexpensive
Cooks quickly
Cons
High on sugar calories
Packaging could be better
Not made in the US
Augason Farms isn't a highly known brand in survival circles. Taking this into account, they offer the best pickings for people looking to build their own stockpile. They have a much wider variety as compared to other emergency food brands. Their foods come in both individual and pail sized kits. You can get the best of their food by purchasing the breakfast and dinner variety.
Moreover, be sure to get a supply of bottled water or at least a filter since it takes a lot of warm water to rehydrate the food. Augason Farms is great for foodies and you would rarely ever find such a wide variety of freeze-dried products.
The food comes packed in two different pails for breakfast and dinner. A can has 3 – 4 pouches with 12 – 16 servings per can. It is perfect for a family. There are 13 varieties of entrées and soups, plus chocolate pudding and milk in the dinner pail. The breakfast pail contains oatmeal, milk alternative, cream of wheat pouches, banana cereal, and banana chips among other things.
There are more calories and a lot less sodium as compared to other brands. You will get about 240 – 300 calories in a serving. The meals also have more vegetables as compared to other brands. The packets are not just loaded with starch and cheese. In relation to this, the protein content is low. Even the "chicken" meals only contain chicken flavoring.
Pros
Good price
Low sodium
Huge variety
Cons
Low protein
Dairy pouches have a short shelf life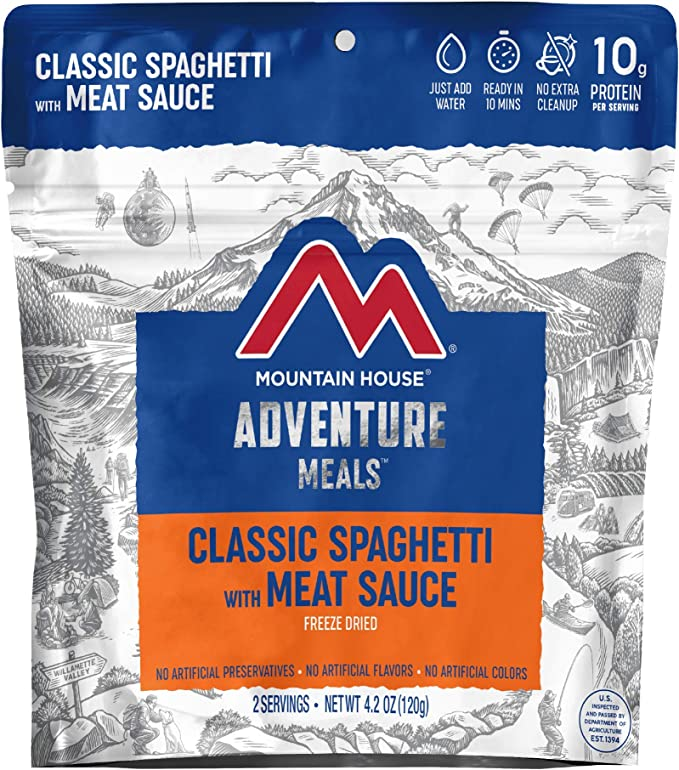 Mountain House Foods is a high-quality brand offering nutritious and premium meals. It's well-known throughout the survivalist community and is one of the better options if you don't mind paying a bit more. They have recently branched out from offering just backpacking food to emergency preparedness food kits.
You need to understand that their selection of freeze-dried bulk foods is a bit smaller. Based on this, they have an awesome selection of freeze-dried breakfasts, desserts, and entrees. You should go with this brand if you want your kids to be eating well even if the emergency situation lasts a few months.
The brand used to previously offer a shelf life of 7 years. Taking this into account, they now provide 30 years "Shelf Life Taste Guarantee" on all products, including the pouches and cans. There are a few desserts with a shorter shelf life though. Mountain House focuses more on the quality of ingredients and is an excellent source of nutrients.
They are unlike other emergency food brands that only think about the shelf life and cost. Their entrée pouches contain actual meat and not just textured protein that you won't eat even as a last resort. They offer some of the best tasting emergency foods without adding a ton of chemical flavoring or salt to entice your scent glands.
You should know that the overall calorie count of the meal is low. Moreover, there's a lot of nutrition and protein in each serving.
Pros
Meals contain actual meat
High protein content
Quality ingredients
Cons
Expensive
No freeze-dried fruits or vegetables
No long-term bulk-kits
Freeze Dried Vs. Dehydrated
There are several differences between freeze-dried and dehydrated ingredients. Dehydration makes use of low heat to remove moisture. It may only remove about 80 – 90% moisture making the food more prone to bacteria and other microorganism growth if not kept in ideal conditions.
In contrast, freeze-dried food is prepared at minus 40 degrees. The process makes use of dry ice crystals and pressure to remove moisture. In fact, moisture is removed during the freeze-drying process as a gas instead of as liquid. Nearly, all of the moisture gets removed during freeze-drying.
In general, freeze-dried products tend to last longer as compared to dehydrated foods. They also tolerate heat much better because the moisture is completely removed. Further, freeze-dried foods are more porous in nature. They rehydrate much quicker than dehydrated food.
In the aftermath of an earthquake, you may want to preserve your heat source. You may not be able to cook your food for too long. While dehydrating foods at home is easier than freeze-drying, you should not depend on DIY processes if stocking for an emergency. The smallest mistake may cost you dearly where leftovers are concerned.
You can always stock up on both freeze-dried and dehydrated food. For instance, where animal protein is concerned you will find freeze-drying provides better quality. You can easily purchase freeze-dried steaks, fish, or pork chops. In case of fruits, vegetables, and nuts, you may want to consider dehydrated choices.
Based on this, it's pivotal to understand that dehydrated foods have a shorter shelf life as compared to freeze-dried food. You would need to overhaul your store more often.
The Verdict: Which Brand Should You Buy?
Every brand featured here is reliable when it comes to emergency preparedness. Your personal choice should take into account the price, nutrition, and amount of calories. We particularly like freeze-dried food from ReadyWise. It has a high shelf-life, the food is priced right, and there are a number of varieties on offer.
If you want more flavor or premium ingredients you should choose Mountain House Foods. They include the best quality ingredients, which inflates the price a bit. Augason Farms is an excellent choice for families because of the wider variety in their bulk pails. Their food also contains more calories per serving.