Portable generators are a solid choice whether you are looking to combat a blackout or get an adequate supply of electricity when bugging out. Over 60 million Americans make use of propane and gasoline generators for different purposes. During an emergency or while camping, you and your family will need a portable generator to satisfy all your electric needs. In this handy guide, we will list the 7 best gas and propane generators for survival in 2023. These are advanced generators that offer endless power capabilities so that you remain connected to your devices no matter what.
Table of Contents
Gas vs. Propane Generator
How to Store Gasoline Long Term
Best Gas and Propane Generators for Survival
Westinghouse 12500 Watt Dual Fuel Home Backup Portable Generator – Best Portable Generator Overall
DuroMax XP15000EH Dual Fuel Portable Generator – Best Propane Generator with Hybrid Efficiency
GENMAX Portable Inverter Generator, 9000W Super Quiet Gas Propane Powered Engine with Parallel Capability – Best Inverter Generator
AIVOLT Dual Fuel Portable Inverter Generator- 10000 Watts – Best Runtime
Champion Power Equipment 200988 4500-Watt Dual Fuel – Best Budget Generator
Westinghouse WGen 9500df Generator – Best Value for Money
DuroMax XP13000HX Dual Fuel Portable Generator-13000 Watt – Best for Heavy Power Users
How Long Does Diesel Last?
Conclusion
Gas vs. Propane Generator
Gas powered and propane generators are both great sources of power during a blackout or when camping. While propane-powered generators are more cost-effective in the long run, gas-powered generators usually have a lower initial cost. These are a few points of difference between the two:
Shelf Life
You probably won't need your generator every day. This means you may need to store it for most of the time. Propane is a far superior fuel when it comes to shelf life. Gasoline is highly flammable and generally degrades after a year. Moreover, propane doesn't degrade with time like natural gas.
The only drawback to propane is that it is a hazardous material and needs to be stored in a certified storage tank or cylinder. The best propane generators require timely maintenance. In fact, propane cylinders need to be recertified every 10 years. Bulk storage should be reassessed every 25 years. Gasoline leaves carbon deposits that can degrade the shelf life of your generator.
Maintenance
Another chief drawback of propane-powered generators is that these can be difficult to repair in a DIY setup. Gas-powered generators have far easier mechanics as compared to propane generators. Propane-powered generators are notorious for having complicated mechanics that don't leave room for operating errors.
Fuel Availability
Gasoline is easily accessible during an emergency. You can simply siphon off a little bit from your car when there are no other available sources. You will need to get a bulk tank if you are using a propane fueled generator.
Environmental Impact
Gas generators are more efficient as compared to propane generators. Stemming from this, propane generators are more environmentally friendly. These generators produce a lower amount of carbon monoxide in comparison. In fact, they release half the amount of carbon monoxide as compared to a gasoline generator.
How to Store Gasoline Long Term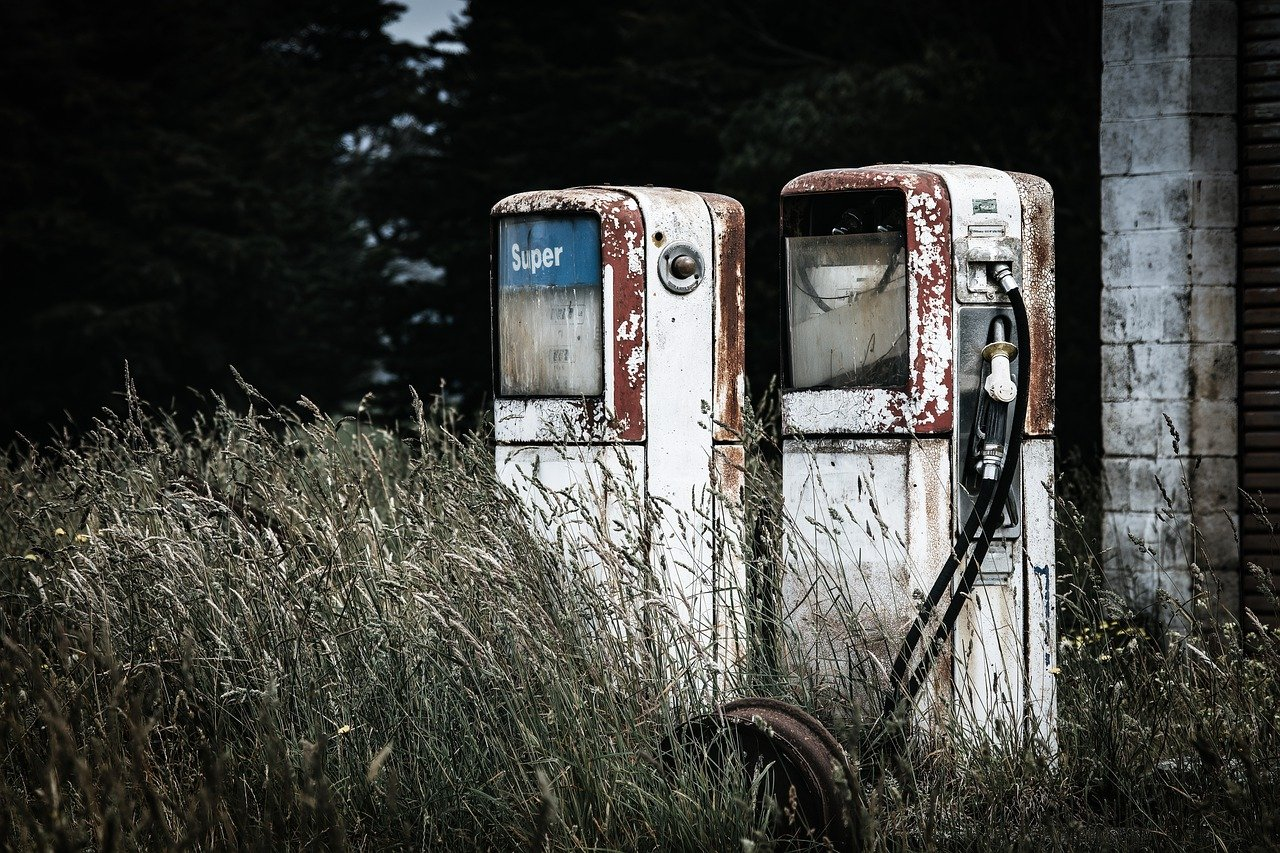 You need to follow simple rules for safety and effectiveness if you want to keep a stash of fuel at your bug-out location or at home. It's critical to obtain suitable containers. Plastic containers are terrific for storing gasoline for long term. Most modern plastic containers available in supermarkets can be used for storing gasoline. Diesel is usually kept in yellow containers while red is used for gasoline.
If you need more than a few gallons, you should purchase barrels. However, make sure you never mix gasoline barrels with other types of fuel. Farm supply stores and racing shops are great places for purchasing barrels. You can get a small 30-gallon drum or a standard 55-gallong drum quite readily. Drums are ideal, but they are not without a few inherent issues.
You should make sure the drums are completely dry before you fill them. Make sure to seal them tight until you decide to use the fuel. Always store gasoline in a cool and dry place. It needs to remain cool, fresh, and depressurized. This is especially important if you are storing dozens of gallons of highly flammable fuel. Leaving a tank of fuel in the hot sun can be hazardous.
You should keep the fuel tanks stored in a shed or garage. Make sure it's a well-ventilated area. You should also ensure the tanks are not kept in direct sunlight. Keep them away from your vehicles' exhaust pipes, space heaters, and other sources of heat. You should inspect the storage tanks regularly for pressurization. Remove the cap carefully and let the fumes escape if the tank appears to be ballooning with gas fumes.
Best Gas and Propane Generators for Survival
This is one of the best portable generators and is available with a heavy-duty 457cc 4-Stroke OHV Westinghouse Engine. It has a dual-fuel capability and is both affordable and efficient. Optional fuel source is actually handy when both propane and gasoline are hard to access. There have been reports of fuel leaks and cosmetic damages in transit.
While the noise level of this generator is tolerable, it is not really super quiet. This is a reliable and powerful generator that can be used as a home backup power supply or a one-stop portable power solution. Maximum fuel efficiency, remote start, and durability makes this generator worth it. You should purchase the Westinghouse 12500 if you don't mind the heavy weight.
Portable propane generators usually have a long runtime. This generator has a runtime of 12 hours with a gas load of 50%. It will give you 7 hours at 50% load when running on propane. There is a Push Button electric start in addition to a remote start Frequency Operated Button (FOB). It's easy to switch from propane to gas and vice versa using the dual-fuel operation.
There are outlets, indicators, and a VFT Display in the Westinghouse. The display shows lifetime hours, frequency, and voltage output. You can get real-time tracking information regarding the performance of the generator and maintenance schedules.
Pros
Impressive power output
Remote control
Compatible with CARBs stringent emissions guidelines
Cons
Heavy at 340 pounds
Noisy and loud
This is one of the most powerful generators available within the Dual Fuel line. The DuroMax XP15000EH is perfect as a jobsite, home, and camping backup. You get the power of a large standby generator with the ecological footprint of a portable generator. The DuroMax XP15000 is equipped with a formidable 713cc V-twin engine making it perfect for anyone looking for a reliable power source that runs on propane or gas.
The unit can handle heavy loads with 15,000 starting watts and 12,500 running watts. In fact, it can easily power a home air conditioner along with high amperage power tools. The generator runs on both propane and gasoline giving you the flexibility of fuel choice.
The DuroMax 713cc V-Twin engine is ideal as a portable home standby generator. It has a low oil shutoff feature which is useful in preventing the system from getting damaged. The fully featured power panel includes a broad selection of outlets, including a 240V 50A outlet, 120V 30A twist lock outlet, 240V 30A outlet, and 4 120V household GFCI outlets.
The panel includes a digital voltmeter for tracking maintenance hours and output. All DuroMax generators are approved by the CARB (California Air Resources Board) and EPA (Environmental Protection Agency). This ensures the generator is environmentally friendly.
Pros
Capable alternator with heaps of power
Great value for money
Remarkably quiet
Cons
Weighs 250lbs
Poor tech support
Pro tip: Many buyers struggle with setting up their DuroMax generators. This informative video can help you get set up and started with ease.
GenMax portable inverter generators have a powerful 458cc 4-stroke OHV engine. It has great heat dissipation and can easily withstand the 1000 hours durability test. The generator offers 9000 peak watts and 7600 running watts. It is perfect for camping with your RV and for emergency blackouts.
The Digital Control Center features an LCD display that shows load level, voltage output, and the hours run. There are four 120V 20A GFCI protected household outlets, 1 120/240V 30A locking outlet, and a 120/240V 50A locking outlet. You can start the generator conveniently using the remote control option without having to step out.
The GenMax 9000W runs on both propane and gasoline offering the freedom of flexibility. The in-built safety feature automatically turns off the generator when an unsafe level of carbon monoxide gas gets detected. Inverter technology provides a stable and clean power for sensitive electronics, including computers and televisions.
One of the best features of the GenMax portable inverter is the parallel capability. There is a Voltage Transfer switch that allows you to use both 120V and 240V. You can confidently double the available power to 15,200 running watts and 18,000 peak watts by connecting two GM9000iED inverters together.
The generator also boasts of a low oil shutoff feature that can prove to be handy in protecting your investment.
Pros
Extremely fuel efficient
Very quiet
Automatic low oil shutdown
Powerful enough to keep you comfortable
Cons
Heavy and difficult to move
Parallel kit is sold separately
The AIVOLT Dual Fuel Portable Generator has high fuel efficiency and plenty of power. It offers 8000 running watts on gasoline with 10000 starting watts. The generator offers 459cc 4- strokes OHV air-cooled 100% copper windings, which can extend the life of your generator.
The fuel tank has an eco switch that allows the generator to run for more than 19 hours. You can save money on fuel costs making it perfect for storms and emergency power outages. This is an ultra-quiet outdoor generator which is safe for the most sensitive electronics, such as phones, projectors, game consoles, small power tools, and laptops. It comes with 61 dBA noise at 23 feet, which is almost the same sound as a regular conversation.
You can enjoy clean and reliable power with in-built inverter technology. AIVOLT generator boasts of an exclusive fuel change technology that makes it easy to change fuels even when the generator is running. You can easily connect the generator to the electrical system in your home with the ATS outlet. Remote control is another helpful feature that allows for the generator to be started conveniently during hot and cold weather.
The generator is equipped with carbon monoxide alert technology that automatically shuts it down when unsafe levels are detected. Other safety features include built-in overload protection and indicator lights. AIVOLT offers a 2-year long-term warranty that includes free technical support from experts. AIVOLT quiet inverter generator is approved by the CARB (California Air Resources Board) and EPA (Environmental Protection Agency).
Pros
High fuel efficiency
Plenty of power
Remote function
Cons
High noise levels
Mixed experiences of customer service
This is a reliable and powerful dual fuel generator. The Champion provides enough power for keeping the refrigerators, lights, electronics, and freezer running when the mains are down. You can use the Champion Power Equipment 200988 for powering energy-intensive appliances, including water heaters.
The generator comes with an electronic start switch which can be used for connecting the generator to a transfer switch in your building. You can connect the generator to a propane tank or run it using the 6-gallon gasoline tank. The best part about the generator is that it is user-friendly. It comes with clear and simple instructions. You can set up the generator easily even if you have never done this type of thing before.
The Champion Power Equipment 200988 has an "Intelligauge" which can enable you to track run time hours, hertz, and voltage. This way you will always know when maintenance is due. It's a heavy generator, but it comes with high-quality wheels. You should not have any trouble maneuvering it despite the weight. The Champion is not the cheapest model available on the market. Based on this, the reliability, quality, and ease of use make it worth the additional money.
Pros
Easy to track power output
Excellent performance
Easy to maneuver
Straightforward setup
Cons
Expensive
Shorter run time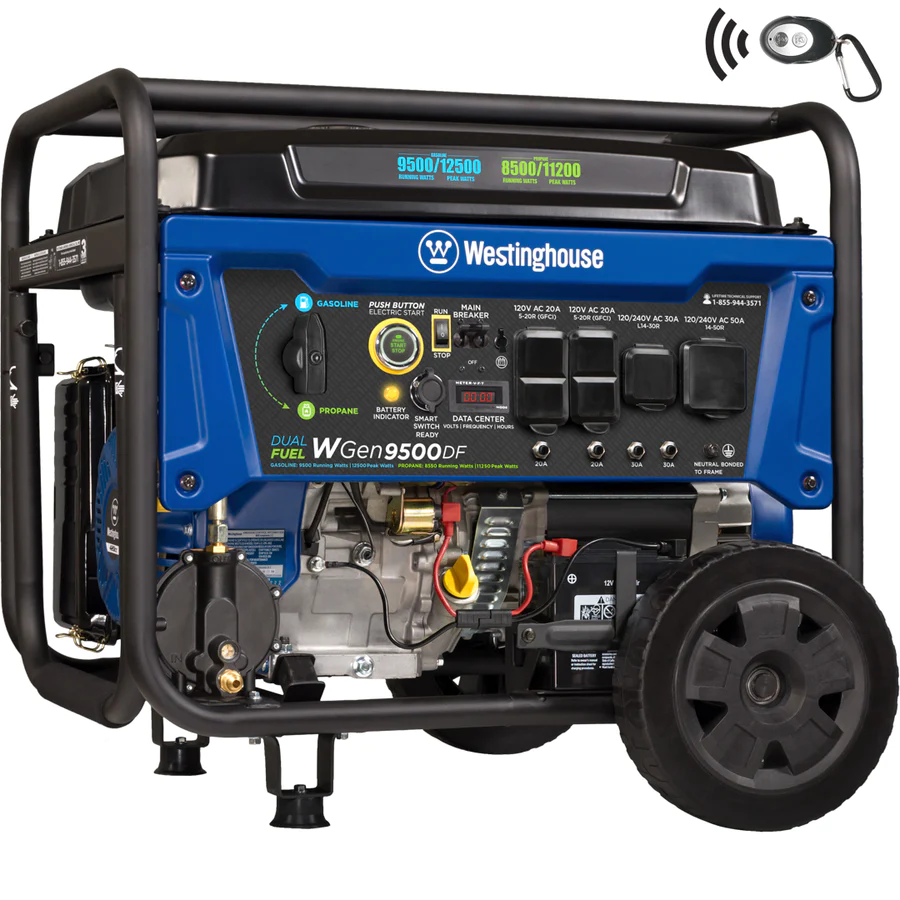 The Westinghouse Outdoor Power Equipment 12500 boasts of a constant power rating of 9500 watts when run on gasoline and 8500 watts on propane. It offers a peak power of 12500 watts on gasoline and 11200 watts on propane. This makes it powerful enough to keep all essentials running, including air conditioners and water heaters.
You can connect the generator to a transfer switch. This will help you avoid running extension cords from individual appliances. The generator starts at the touch of a button. If you want you can use the remote key fob inside your house to turn it on and off. There is also a backup pull cord in case extreme weather prevents the generator from coming on.
This heavy duty 457cc Westinghouse 4-Stroke OHV engine can run for up to 11 hours at 50% load and 16 hours on 25% load. It has a built-in fuel gauge that lets you know when you are running low on fuel. You can easily switch fuel sources without turning off the generator. However, there is no in-built safety feature that automatically turns off the generator if there is low fuel at this price point.
The Westinghouse Outdoor Power Equipment 12500 is a heavy generator. However, the wheels and handle can be used for moving the generator. Moving the Westinghouse requires a lot of muscle power, which can be a problem for the average householder. Westinghouse is a big name in the generator business and offers national customer support. This model comes with a 3-year guarantee.
Pros
Electric start button
Excellent value
Remote start option
Cons
Mixed reviews regarding customer service
Difficult to maneuver
This generator is a workhorse, which can power your entire house comfortably. It is nicknamed "The Beast" for good reason because it delivers more than 9000W of continuous power. It has a 20- and 30-amp outlet along with a 50-amp outlet for more power and heavy duty use. You can choose to operate at either 120V or 240V or both at the same time.
DuroMax XP13000HX dual fuel generators offer a run time of 7 hours on propane and 8 hours on gasoline. This may be less as compared to other models, but the power balances itself out. You may need a 40-pound tank instead of the standard 20-pound tank if you don't have an accessible gas station nearby.
This is a heavy generator. The tires will begin to flatten if you leave it stationary for more than a few days. You shouldn't have any trouble setting it up if you are an experienced generator user. Moreover, new users tend to struggle with the sparse instruction manual. DuroMax XP13000HX comes with a 3-year warranty which doesn't cover labor or shipping.
This generator is an excellent value for money. You should get this if you want to use power tools or power air conditioning units and power heaters.
Pros
20, 30 and 50-amp outlets
Powerful dual fuel generator
Cost efficient for its size
Cons
Vague instruction manual
Tires get flattened quickly
How Long Does Diesel Last?
Diesel fuel does not have an infinite shelf life. You cannot use contaminated or expired fuel. Most generators experience engine damage or premature shutdown. Diesel fuel is usually designed to last for only 28 days. There is a demand for low-sulfur diesel that is more prone to contamination. Gas stations are not equipped to store fuel that is less resistant to bacteria growth.
You can use water controllers, biocides, stabilizers, and other additives to extend the shelf life of diesel fuel. Most facilities have their supply tested periodically for ensuring its viability. You should always purchase diesel fuel that hasn't been stored for a long period of time. The three main threats to the quality of fuel when above conditions are not met are microbial growth, hydrolysis, and oxidation.
These three factors can easily shorten the lifespan of diesel. In fact, the quality of the diesel can quickly degrade after just 6 months. This can be a problem if you have tri fuel generators or a dual fuel technology generator. There are steps that you can take to delay oxidation. For instance, you can use a cool gas tank. 20°F is the ideal temperature for storing diesel.
In any case, the temperature should never exceed 85°F whether you are storing gasoline or diesel. You can invest in an underground tank or provide a canopy to achieve cooler temperatures. You should not use fuel additives or treatment that claim to be useful for treating both diesel and gasoline. The additive you use for treating diesel should be specific to diesel and not any other fuel source.
Consider All the Pros and Cons to Make Your Choice
Dual fuel generators are best for camping and emergency blackouts. The Westinghouse 12,500-Watt Dual Fuel Home Backup is one of the best portable generators. It offers a lot of power at the price point while being economical in terms of fuel consumption. It also comes with a convenient remote start feature.
Pertaining to this, if you are looking for long runtimes, you cannot do better than the AIVOLT Dual Fuel Portable Inverter Generator. This generator can be used for more than 19 hours on eco mode. It's also one of the quieter outdoor generators. Inverter technology allows for clean and reliable power. Its 2-year long-term warranty makes it the ideal choice for campers and homeowners.